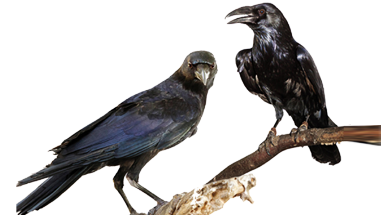 Posted on June 04, 2017 / by
admin
/
The American Crow is a black bird averaging around 18 inches long. Crows have black feathers, beaks, legs and feet. Crows and ravens look very much alike and are often misidentified for each other. Crows differ from ravens in appearance by their shorter, thinner beaks, and are about six inches shorter than a raven.
HABITAT
American Crows live in a variety of different settings. They can be found in parks, woodland areas, orchards, farms, as well as urban and suburban settings.
DIET
American Crows are omnivorous, they will eat anything from seeds, grains, and fruits, to invertebrates, carrion (scavenged carcass), and small animals.